I know, I know, it's been a while since I blogged. A bad cold, a trip to Florida, holidays and a day job had me distracted. But I am back. Since I have been gone, I fell off the wagon a bit. I did end up getting some new trendy Hunter rain boots and those over the knee Julia Roberts boots, (which really don't look all that whorish when you pair then with a twin-set and pearls, although I have to admit I did get some second-glances in Starbucks).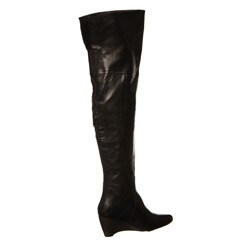 I also had to have a new pair of everyday black leather boots because my old ones left me in crippling pain. Three pairs of boots are a bit much in one season, I admit, although they each have different functions. (A work attire function, a function to protect against the elements and the function of getting noticed in Starbucks). I also bought some fabulous resort-wear at a Sample Sale. Never mind the fact I don't even have a vacation booked. So now I am stuck with the realization that I don't have a new coat to keep me warm, and my hat, gloves and scarves are all mismatched. I guess I am going to have to spend the frigid winter months wearing linen dresses and hooker boots with clashing winter accessories. I made my wardrobe, and now have to live in it; which brings me to the topic of this post: "

Very Good Old Things

".
American culture dictates that we always have the latest and greatest; the newest lightest fastest computer, the trendiest most inventive cell phone, the just–released tiniest camera with the most mega-pixels in the world.

I don't really care all that much for technology. But fashion is my middle name. I hate wearing last year clothes. And even worse, I hate wearing accessories from seasons past. Maybe it is because I live in Manhattan where the sidewalks are virtual runways. People are wearing the latest collections and trends, sometimes before they even hit the stores. I feel like my fellow fashionista Manhattanites can just give me a four second once over and declare "She is soo 2007!"

So historically, I update my wardrobe. Every season. Then someone pointed out to me how ridiculous this is. Not to mention expensive.

So alas, this season, my main shopping destination… was in my closet!
I found some pretty interesting stuff. Like a Diane Von Furstenberg wrap dress I bought last year for a pretty pricey penny. It looked pretty dated to my fashionable eye. But then I realized the dress was a re-issue of a 70's print and part of her 2009 "
vintage collection
.

"

I had a classic vintage dress! I put it on, and remarkably it still fit…and if the dress fits…wear it! So I did. Oddly, I got dozens of compliments. It was a real show-stopper. Same goes for a lovely grey wool dress by my favorite designer
Michelle Smith
. A coworker sent me an email saying my outfit was an "A+" and thought it was a Halston! Really who needs Bloomies when you have a walk-in closet full of very good old things?!
Then there were the three-year-old waterproof
Merrell leather boots
, I forgot I had. They were almost in perfect condition. So I tried them on. And they hurt like hell. Maybe because they were a size 8 and I have not wore a size eight for years. Apparently our feet get wider as we age (I wish someone sent me that memo before I splurged on ill-fitting shoes). I was about to toss them when my husband (who buys everything except maybe used underwear on EBay) suggested that I sell them. So I list them on EBay and a minor bidding war ensued. I ending up walking away with eighty bucks! One woman's garbage is another woman's treasure.
Who knew the things in my Goodwill pile would fetch me both compliments and cash?

My austere new year's budget looms ahead. My goal for 2011 to clean out my closet, try on and try out some old things and see what happens when history repeats itself. And if the experiment fails, here is to hoping there is money in my mistakes. Happy 2011!